How a rapidly expanding senior care brand increased total conversions 445%
445%


increase

in total conversions YoY
71%


decrease

in cost per acquisition
Overview
Since its inception more than 15 years ago, Home Care Assistance (HCA) has experienced rapid growth and continued expansion. To take its continued growth into the next chapter, the HCA team engaged Cardinal Digital Marketing to establish a true marketing partnership. At the time of the engagement, the group needed to accelerate its digital advertising efforts, with the goal of driving leads with far better cost-efficiency. And they needed to do so for two brands—HCA and The Key—simultaneously. Despite the company's size and nationwide reach, its in-house marketing team was made up of less than ten people. When it came to digital ads, the team needed a hand. Unfortunately, the digital marketing agency they had previously worked with applied the same generic, decentralized campaign strategy across all locations, with less than satisfying results.
About Home Care Assistance
Since its inception in 2003, Home Care Assistance (HCA) has become the leading provider of home care for older adults across the country. The in-home senior care provider and luxury homecare brand is now active in 76 markets across 40 states. Home to more than 10,000 employees and recommended by thousands of healthcare professionals and senior care experts, HCA is well poised for continued growth.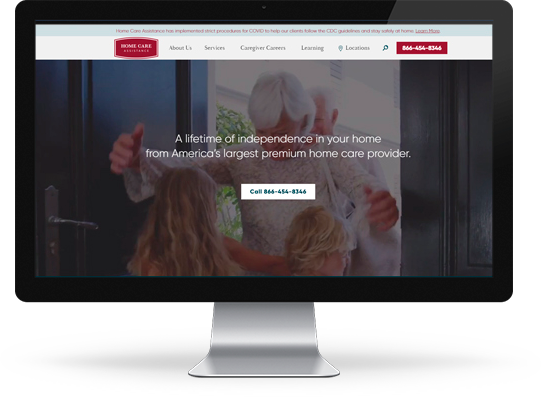 Challenges
At the outset of its engagement with Cardinal, the HCA team had a couple of urgent business objectives. First, thanks to the strength of its established brand, the HCA team wanted to increase market penetration with a particular focus on efficient lead generation. By their own team's assessment, HCA had a prime opportunity to reach a lot more hand-raisers for senior home care. What they needed from Cardinal was a way to target this audience earlier in the funnel to drive demand at the time of the precipitating life event (acute illness, a fall, etc.).
More specifically, the HCA team was looking to implement lead quality tracking to ensure that their digital efforts provide actual business value. To that end, they were focused on specific segments defined by the total lead and client volume.
Goals
Seize on the strength of its brand to aggressively increase market penetration
Reach target audience at the time of need (earlier in the funnel)
Implement lead quality tracking
Drive a high volume of quality leads at a lower cost
Solutions
When Cardinal first took ownership of the HCA account, our initial aim was to scale lead generation without losing any efficiencies. In order to accomplish this, we needed to leverage automated bidding for more informed bidding decisions (to coincide with our increased ad spend across the board).
Campaign Consolidations
One of the most fundamental and far-reaching steps our team took was restructuring the HCA team's existing campaigns. Our goal was to rely on a more consolidated approach that maximized conversion data at the campaign level. To get there, we took the HCA accounts from a local campaign structure to a consolidated national structure with immediate improvement in the cost-per-conversion (dropping 67.5% per conversion). In addition, we put together responsive search ads to layer on more automation and improved performance. Finally, we expanded the HCA team's campaign portfolio into display and discovery ads.
Omnichannel Media Mix That Improved Brand Awareness and Generated More Leads


Results
Today, we like to consider ourselves a valuable partner that's trusted to deliver a consistent, high-quality lead pipeline. In terms of the HCA team's goal of acquiring higher-value customers, we think the results speak for themselves:
Year over year, our combined efforts have resulted in a 445% increase in total conversions, including both phone calls and form submissions. While we had to ramp up ad investments by 56%, CPA dropped 71% compared to the period preceding our comprehensive account restructure.
Naturally, these were precisely the results the HCA team was looking for. As a result, we've continued adding new locations and services to the project scope, including SEO and CRO. Moving forward, Cardinal will continue to serve as the HCA team's trusted digital partner in support of their aggressive growth objectives.
Ready to Rise Up on the Internet?
Fill out the form to get started!